Submitted by

NPMSSupport

on Wed, 26/02/2020 - 12:42
Lorna Somerville is currently a National Plant Monitoring Scheme (NPMS) mentor in Northern Ireland. Lorna started working for the Department of Agriculture, Environment and Rural Affairs in 2005 and worked on the Northern Ireland Countryside Survey 2007 and later, in 2015, she started overseeing the NPMS. Shortly after Lorna became an NPMS mentor, and described it as a 'natural progression' because she was overseeing the scheme. Since then, Lorna has helped countless volunteers in setting up their survey plots in Northern Ireland, with plant ID, along with answering methodology and data entry queries. In an interview with Lorna, she discusses what it is like to be a NPMS mentor.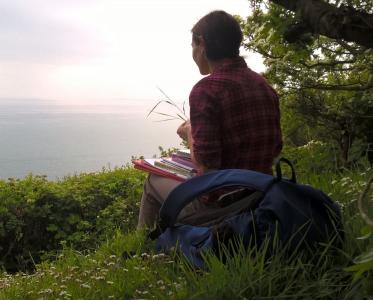 (Islandmagee, Northern Ireland)
What does the role of NPMS mentor entail?
The role of mentor entails being available to help volunteers with the NPMS methodology, plant ID as well as skills such as interpreting maps to find suitable habitats. It can also involve helping people make initial contact with landowners for example handing out the NI Postcard if in Northern Ireland, or using the Permission letter provided in NPMS Resources in the rest of the UK.

https://www.npms.org.uk/sites/default/files/PDF/npms%20postcard%20A6_2019.pdf
Mentoring was mainly done through one to one sessions as well as email and phone conversations. Therefore, to be a mentor it is essential to have good knowledge of the NPMS survey methodology as well as survey experience in order to predict difficulties and provide solutions on how to overcome them. The mentor role also entailed splitting the methodology down into simple steps and establishing the volunteers existing knowledge to know the correct level to pitch your advice. For further information on the mentor role follow this link: https://www.npms.org.uk/sites/default/files/PDF/NPMS%20Volunteer%20Role%20-%20Mentor_0.pdf
What resources are available to help mentors?
Once you have signed up as a mentor you will be sent a mentors toolkit which includes an introduction presentation, logos, a mentor checklist as well as a frequently asked question document, activity ideas and other supporting materials. The FAQ document covers various topics including land access, plot selection and methodology. In addition, as a mentor you will receive support from the Volunteer Manager, Dr Rachel Murphy (support@npms.org.uk) and if located in Northern Ireland, Abigail Maiden (Abigail.Maiden@daera-ni.gov.uk).
What is the most asked query?
The most asked query is definitely regarding how to get landowner contact details in order to obtain permission to survey. Due to GDPR, I am not allowed to give out these details and advise volunteers the easiest way to obtain landowner permission is to knock on farm houses and leave the NI postcard [see above]. The second most common query is regarding where and how to select and set up plots which is why as a mentor I offer to meet people and set up their plots together. This I found was also a great way to meet the volunteers face to face and an enjoyable aspect of the role.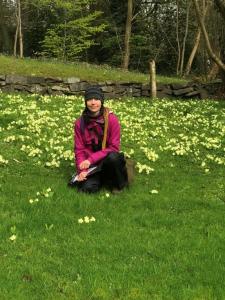 (Belfast, Northern Ireland)
What is the most challenging aspect of being a mentor?
I would undoubtedly say the most challenging aspect of being a mentor is the time frame – assess and build a person's confidence in their plant ID skills, discuss NPMS related questions, set up 5 plots and get to know each other within one day can be quite a challenge. This also depended on the person's previous survey experience; a lot of people I helped were new to surveying which is great to see.
What is the most rewarding aspect of being a mentor?
The positivity from the volunteers alongside their thirst for further plant knowledge.  I also enjoy meeting volunteers in person and seeing their plant ID skills develop even in a short timeframe of a day. I really enjoy seeing the joy and sense of personal achievement when a volunteer recognises a plant correctly that they could not identify at the start of the day.
Would you recommend being a mentor and why?
Yes most definitely, it is a great way to get to know people with a common interest and being around people who are also enthusiastic about plants gives you a real buzz. Furthermore, being a mentor really gives you confidence in other volunteer's data and helps build a community feel to the NPMS in Northern Ireland. I also found it made me study, as I was being relied on to provide accurate information. I took part in the Identiplant course (https://identiplant.co.uk/identwp19/) in 2017 to give me further confidence in my ID skills and overall being a mentor has further developed my own survey and botanical skills.
What personal attributes would make a great mentor?
As a long term volunteer, I appreciate the vital role a mentor plays in passing on knowledge and understanding. A mentor should find enjoyment and satisfaction in teaching and supporting others in an enthusiastic manner. A mentor should be approachable and be open and adaptable to volunteer needs and skill levels. Good verbal and written communication skills is key along with being flexible in terms of availability, or even meeting times and locations. Do remember as a mentor you can get financial help for travel cost and venue hire if prearranged with Rachel Murphy (Volunteer Manager – support@npms.org.uk) or Abbie Maiden (NPMS NI co-ordinator - Abigail.Maiden@daera-ni.gov.uk).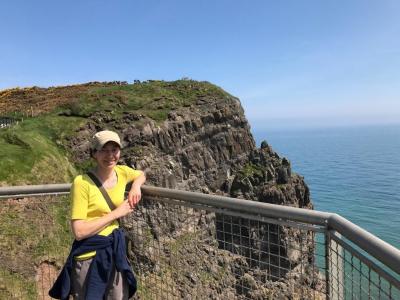 (Islandmagee, Northern Ireland)
What advice would you give potential mentors?
I would advise them firstly to be confident in their own plant ID abilities and the NPMS survey methodology. I went on the Identiplant course which gave me increased confidence in how to explain botanical terms and ensure my plant ID was correct. The second piece of advice I would give would be to use social media pages alongside email and phone calls to communicate to a large audience and really make yourself known to NPMS volunteers in your local area so you are approachable and open. The third piece of advice I would give and potentially the most important piece would be to work with the time you have available, assess the specific volunteer needs and ensure these are met in the time scale available. Try not to over burden yourself! Lastly, try to encourage people to become self-sufficient NPMS volunteers, show them how to do it but do not do it for them. Provide them information on any local groups and events they can attend or get involved in to further develop their own skills and potentially share with others.
Overview of the volunteer mentor role
The NPMS mentor role is a volunteer position which is highly flexible in both the time commitment required and the type of support you can offer. For example Lorna is able to commit time to help volunteers in the field both setting up plots and species identification. Whereas, it is equally important to have mentors who offer support via answering email queries only, or perhaps you may be keen to provide help with species ID. In addition, it is important to remember as a mentor you will also be supported by other mentors and volunteer coordinators, Dr Rachel Murphy (support@npms.org.uk) and Abigail Maiden (Abigail.Maiden@daera-ni.gov.uk).
Written by: Abigail Maiden