Submitted by

NPMSSupport

on Wed, 20/03/2019 - 09:30
Spring is bursting all over, bolstered by the warmest February on record. Heralding longer days outside (perfect for surveying), blossom on trees and the return of colour and scent to our woodlands and verges.
On the first day of spring, initial findings from woodlands surveyed over four years as part of the National Plant Monitoring Scheme (NPMS) show that the highly invasive, non-native Himalayan Balsam is reported more frequently than native wild flowers such as bugle, ramsons and woodruff.
Today marks the annual start of the UK's biggest wild plant survey.  The National Plant Monitoring Scheme relies on hundreds of volunteers across England, Wales, Scotland and Northern Ireland to survey their local patch for over 100 wild flowers.  The survey runs from March through to September and covers over 30 habitats found in the UK, from familiar woodland and hedgerows to blanket bog, flushes, heathland and streams. NPMS is run by a partnership of the Botanical Society of Britain & Ireland (BSBI), the Centre for Ecology & Hydrology (CEH), the Joint Nature Conservation Committee (JNCC), and Plantlife. 
Initial exploration from the first four years of woodland data suggest:
The Bad News...
Just five species make up almost half the records: nettle, bramble, cleavers, hogweed and cow parsley. These are the dominant species in our woodland habitats, and are often associated with nitrogen pollution and under-management
Garden escapee Himalayan Balsam is recorded more frequently in surveyed woodlands than bugle, wild garlic (ramsons) and woodruff: It can grow to over 2m tall and its rapid spread means it forms dense thickets, potentially shading out native species. Each plant produces about 2,500 seeds whilst an impressive trigger mechanism can fling seeds a considerable distance from the parent plant, with several parent plants together, seeds can occur at a density of between 5000-6000 seeds per square metre.
Once common native beauties such as early dog-violet and marsh marigold are much less frequently recorded. Typically, these species are of low fertility areas and potentially being out-competed by nitrogen-loving nettles and brambles. Much of our native flora, which often thrives in low fertility conditions, is labouring under unnatural and unprecedented levels of nitrogen from air pollution, causing changes in the balance of our woodland flora.
Bramble, hawthorn, ivy, blackthorn, hazel and holly make up almost a third of all records indicating an increasing shrub layer in woodland, which could be the result of a lack of management.
 

| | |
| --- | --- |
| Cleavers (c) Luke Morton     | Marsh-Marigold-(c)-Andrew-Gagg-Plantlife |
The Good News... 
Bluebells were the most frequently seen wild flower in the woodlands surveyed. Other iconic native woodland species regularly spotted include greater stitchwort and yellow archangel.
Some of the UK's top pollinator food species were recorded including honeysuckle, ivy and red campion.
Rare indicator species of woodlands have been found including spurge laurel, butcher's- broom and hound's-tongue. Butcher's-broom is a really unusual plant, featuring 'false leaves' that are actually extensions of its stem, native only in the very south of England
The NPMS is supporting the centenary of the Forestry Commission (#forests100).  Out of all habitats surveyed by the scheme, woodlands are the most frequently visited, thanks in part to support from landowners like the National Trust and Forestry Commission.  Volunteers therefore have access to previously unchartered land, across large, sometimes wild and isolated areas of the UK. Volunteers might be beginners, walkers, mountaineers, outdoor practitioners and land managers – those interested can register on the website to be allocated a local 1KM survey square.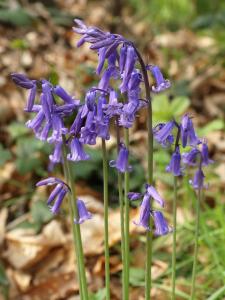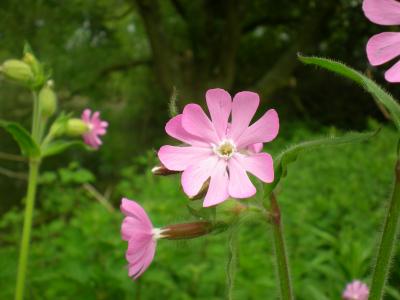 Bluebells                                                                                       Red Campion - Silene dioica
Dr Oli Pescott at CEH says "The NPMS helps us to detect pressures on habitats and may also allow us to understand how these vary across time and space. Early findings are already providing much-needed data on the abundance of wild plants at local levels. We very much hope that, over time, the NPMS will allow us to understand more about how our wild flora is changing in response to pressures such as nitrogen pollution and invasive species." 
Plantlife's Dr Trevor Dines who helped summarise the results warns: "These early data show a strong correlation between species frequency and soil fertility and are a stark reminder that more than 95% of the UK's broadleaved woodlands are affected by excessive nitrogen deposition[1]. The biodiversity of our woodlands is at stake whilst this 'invisible pollution' singles out species unable to cope with excessive nitrogen deposition. The Westminster government's new Clean Air Strategy sets out promising commitments to tackle this problem in England, but urgent action is needed across the UK to save our much-loved native woodlands from the scourge of air pollution." 
David Bullock, Head of Species & Habitat Conservation at The National Trust says: "NPMS provides the opportunity to engage volunteers in tracking wild flowers on NT land and how their distribution and abundance might change over the short-term to long-term. We encourage volunteers to sign up for a NPMS monad on NT land – what better way to see how countryside changes than recording what flowers are in quadrats over decades?"
Dr Kevin Walker, BSBI's Head of Science says: "The great thing about this scheme is that it is inclusive to a wide range of volunteers at different levels of experience who are providing us with evidence of changes in our wild flower populations. It is a fantastic opportunity to develop botanical and field recording skills while contributing valuable data. It's just a great way for people to get involved in citizen science and learn more about our wild flowers".
PK Khaira-Creswell, Director of the Forestry Commission's centenary programme said: "Monitoring schemes like this are essential fact-finding tools that help inform the work we are doing to care for, and improve, the rich ecosystems in our forests. This kind of work wouldn't be possible without the gargantuan efforts of volunteers. We very much look forward to working with our valued volunteer team to launch England's largest ever survey of forest wildlife - the Big Forest Find - later this year."
The NPMS data are published annually and are increasingly used in ecological research. As these data accumulate, they will contribute to government's understanding of how our countryside is faring and will highlight why certain habitats and species are threatened with decline.