Submitted by

olipescott

on Thu, 25/10/2018 - 11:07
Here at the National Plant Monitoring Scheme we are continually astounded by the energy, effort and enthusiasm of our fantastic volunteers, in order to celebrate the great naturalists who make the NPMS what it is, we have asked some of them to contribute combined "Plot Portraits" of both their NPMS squares and themselves! Here is the first in this series of getting to know the NPMS community!
---
Jon Marshall, NPMS Volunteer Surveyor North Somerset
"If you can involve as many people as possible in the natural world we are more likely to conserve flora and fauna in the long term."
I live in really beautiful countryside close to Winscombe in North Somerset on the edge of the Mendip Hills and close to Crook Peak which is a local landmark. I've lived here for 30 odd years with my wife Hilary and our terriers, and after a varied career as a biologist I'll be retiring at the end of the year.
I've always been interested in the countryside; really in the ecology of agricultural land. I've been aware of some other monitoring schemes over the years and have been a member of BSBI for a long time. In fact, I am their arable weeds specialist! When NPMS came along I thought this is such a great idea and is an important thing. It's a brilliant example of citizen science, getting people with all sorts of experience involved in recording.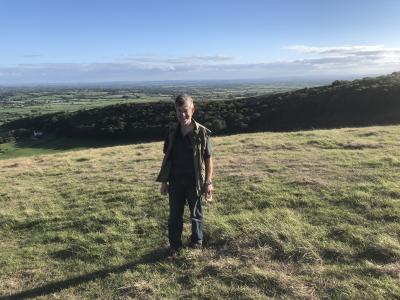 When I found the square just up the hill outside my door was available I grabbed it. I get out twice a year in spring and summer and do the full inventory. It takes me a couple of days usually, not rushing to do it, but I can do most of my quadrat in one day if I push it in good weather. It's a special place; botanically it has really interesting plants and it is great to feel you are contributing to a data set that over the years it will become more and more important.
There are some plants in my square that are particularly special. Somerset hair-grass Koeleria vallesiana only occurs on the Mendips and so here it is right at the edge of its distribution.  There's also Honewort Trinia glauca which is a tiny white umbellifer that is limited to just the Mendips and south Devon. 
When I'm not on the hills I play hockey, something I've done for many years and which gives me a great deal of pleasure. I'm still pretty competitive and will be competing in the trials in October for the 2019 squad for England over 65s team. I've played for England over 55s, over 60s and now over 65s. It's taken me all over the world including Barcelona for the World Cup in June where we won the gold medal.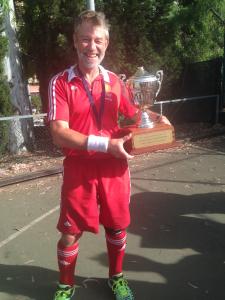 There's a growing movement to keep people in sport as long as possible as it is good for people and good for the NHS. If you think about it, there's a link with the NPMS. Getting out into the landscape and enjoying exercise is great for people's physical and mental health.