Submitted by

NPMSSupport

on Fri, 20/03/2020 - 06:21
Spring officially begins today – and boy don't we need it more than ever?  Today also traditionally marks the start of the UK's wild plant survey season and from April, a chance to return to our NPMS squares and monitor them through the summer months. This is the perfect time to head out, if you are able and it is safe to do so, and immerse oneself in the outdoors – what a tonic nature can be at times like these. The NPMS is also celebrating its first five years of data gathered by our citizen scientists. Interestingly, even in this short time span we are starting to see how our flora is responding to environmental pressures such as climate change.
Over the last five years, 15,000 surveys by volunteer citizen scientists have been submitted and analysed by the NPMS partnership (the Botanical Society of Britain & Ireland (BSBI), the UK Centre for Ecology & Hydrology (UKCEH), DAERA (NIEA) and the Joint Nature Conservation Committee (JNCC). This amounts to around 150,000 plant records - 60% of the entire native flora of Britain & Ireland!
Here are some of the initial results - 
Wild orchids are moving north…
Southern Marsh-orchid, a tall orchid of damp grasslands, was once restricted to the southern half of the UK, but results have come in from as far north as Newcastle upon Tyne. Similarly, the spectacular Bee Orchid didn't occur in Scotland, but has been discovered at several sites around Glasgow and Edinburgh.
Other specialist plants are moving outside their usual range
Mossy Stonecrop, a fleshy succulent formerly confined to the New Forest and East Anglia, is now spreading into sandy habitats in Scotland. Early Meadow-grass was formerly confined to the extreme south west of England on the Lizard Peninsula but is spreading northward. It has been recorded at Fishguard in southwest Wales but also near the ferry terminal at Rosslare on the other side of the Irish Sea. It is also now very common in central London…
A decrease in small, short-lived species during the 2018 drought
Vulnerable plants such as Fairy Flax, Yellow-wort, Soft Brome and Common Mouse-ear took a hit from the extreme heat and lack of water.
By contrast, there has been an increase in species able to cope with drought:
Salad Burnet, a dark crimson flower of old hay meadows, has a longer root enabling it to reach down to moist soil.  Wild Thyme, with its tiny leaves was able to manage water loss and beat the drought.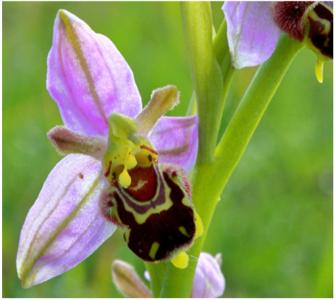 ©golfer2015/iStockphoto.com
Bee orchid (Ophrys apifera) has been recorded on the northern edge of its British range
The NPMS data also illustrates the increasing fertility of large parts of the countryside, in particular our deciduous woodlands. These habitats are likely being impacted by a polluting combination of fertiliser drift from fields and other sources of nitrogen in the environment:
Nitrogen-hungry stinging nettle is the most frequently recorded native species in our woodlands. In fact, just five species make up almost half the records in this habitat: nettle, bramble, cleavers, hogweed and cow parsley. These vigorous species are often associated with nitrogen pollution and under-management, and are changing the diversity of our woodlands.
Once common native beauties such as early dog-violet and marsh marigold are much less frequently recorded. Typically, these species are found in low fertility areas and are potentially being out-competed by nitrogen-loving nettles and brambles. Much of our native flora, which often thrives in low fertility conditions, is labouring under un-natural levels of nitrogen from air pollution, causing changes in our woodland flora.
Dr Trevor Dines who helped analyse this data says this "For the first time ever, the NPMS captures the effect of summer droughts on our wild flora.  Given the floods of the past few months, it's easy to forget the record drought we experienced in 2018. Small annual plants and other delicate species were unable to cope. However, deep-rooted plants and species suited to a more Mediterranean climate are not only surviving but can become abundant in these challenging conditions. My own 3-acre meadow was completely parched by early June 2018; only the toughest species thrived and the following year it was a complete carpet of cat's-ear, which survived thanks to its deep tap-roots. We are living in a period of climate stress. Unlike animals, plants are relatively slow to move around the countryside; now we have evidence of species moving north we really know we have a climate crisis on our hands."
The long-term monitoring of our wonderful landscapes is crucial in the face of our rapidly changing environment and increasing extreme weather events. Who knows how the recent floods will have impacted the seed-bank and life cycle of our wild flowers. We need continued volunteer support across the UK; From the remote montane habitats of the Cairngorms where we see species already pushed to the limits of their natural range due to climatic pressures, to the dune systems of our coastal edges, we need volunteers surveying to help us build up a national picture of habitat health in the long-term.
Getting outside among nature is also good for our health, especially in these challenging times. Don't forget there is an online community of surveyors so if you ever want to talk about your square or find anything unusual, you can share this on Facebook (NPMS volunteers are welcome to join the closed NPMS Support Facebook group) and Twitter @theNPMS.
As the NPMS data accumulate, they will contribute to government's understanding of how our countryside is faring and will highlight why certain habitats and species are declining. The NPMS was designed just for this reason, to allow us to monitor the impacts of environmental disasters like climate change.
Read our most recent report, Understanding the health of our habitats - Celebrating the first 5 years of NPMS data here.