Submitted by

NPMSSupport

on Mon, 03/08/2015 - 15:26
It's a mild day in May as we approach our designated square - a lovely location on the edge of the New Forest where woodland edges on to open fields. The survey is habitat based and our map suggests we have two key habitats to look out for – broadleaved woodland and lowland grassland. So far so good. The guidance notes and advice on the website suggest that recommend a visit to your site beforehand, but we have a fair idea of our site, passing it regularly to and from work.
In addition to a rucksack with waterproofs stuffed in (just in case), suncream, drinks and nibbles and a camera, we are armed with our NPMS survey pack, sent to us when we registered which includes the ID guide. Plants are laid out according to colour and are give a traffic light depending on how difficult they are to identify. Some tent pegs and string found after a rummage in the garage are all we need to mark out our square and linear plots.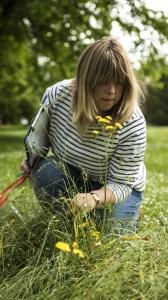 Gabriella (my colleague at Plantlife) and I are novices when it comes to wild plant surveying but feel between us, the guidance notes and the ID guide we can do it.  It's not often that we meet up outside work so this is the perfect opportunity to natter, get some fresh air - and do something useful at the same time.
After a think about where to locate our five plots to match up with the grid on our map, we soon get into our stride and mark our plots down as we go- a rough sketch and photos are definitely recommended so you can remember where to come back to next time.
The ID book is whipped out often for checking which indicator species we have growing in the areas we have chosen to survey. Indicator species are plants that tell us how healthy our habitats are. There are in fact 408 – including well known favourites like Bluebell, Primrose and Ragged-Robin – but only 30 or so to look out for in each habitat so it is not entirely overwhelming.
I would recommend going out in dry, fair weather. Trying to walk out a plot in rain and make notes at the same time does not sound like fun. And fun this survey should be. We plan to come back again in August for a second session -it will be interesting to see what else is flowering later. And on today's reckoning, I'll definitely be back for more next year.