Submitted by

NPMSSupport

on Mon, 31/07/2017 - 11:31
We're back in the office after our 2017 series of training days in Scotland for the National Plant Monitoring Scheme (NPMS), held in Dumfriesshire, Perthshire and the Cairngorms.
Here is a flavour of what was involved at the training days this year...
The morning session at each training day includes the background to the NPMS survey and what is involved in taking part. In small groups we look at example survey maps, to see how to find out what habitats are present, and how to choose where to locate small plots in which to record the NPMS wild flowers.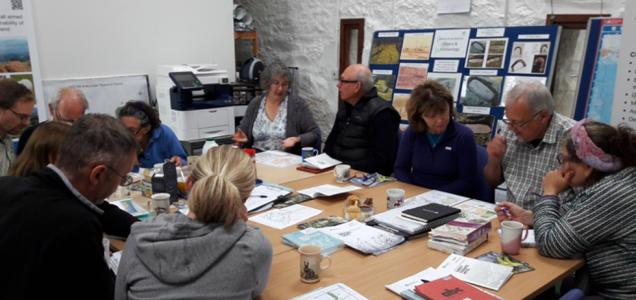 After a sandwich lunch, we head outdoors to put the morning workshop session into practice, setting out plots in different habitats using "high-tech" equipment - bamboo canes and white cord (and of course map and compass).
Here, volunteers set up a survey plot in damp meadow at the Hill & Mountain Research Centre at Kirkton near Crianlarich.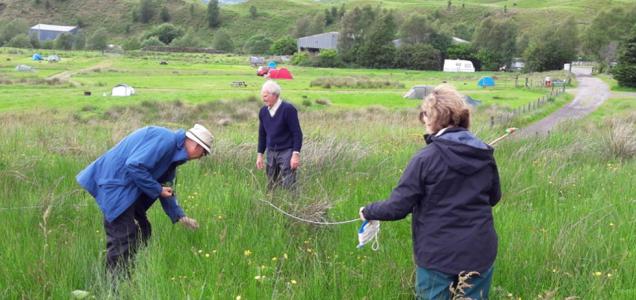 Once the plot has been laid out (usually a 5 metres square), those wildflowers in the survey list are identified and noted down on the recording form, together with other features of the plot (such as whether it is level or sloping, and any evidence of grazing). You don't have to record every plant that is present - the wildflowers in the survey list are chosen to be easy to identify, as well as being characteristic of each habitat, so that they build up a picture of the health of that habitat.
It was great to be back at Kindrogan Field Studies centre for one of our workshops – originally a country house and estate, it has been running field courses since the 1960s. The dry grassland here (just where the Cateran Trail runs across the Kindrogan grounds) had a lovely range of wild flowers to record. The taller clumps of white flowers are spignel – not a flower that is widespread enough across the UK to be included in the NPMS survey list, but nice to see it growing in abundance here.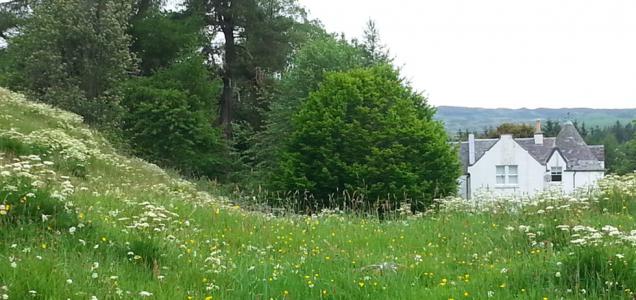 Setting out plots in heather moorland on the Tulloch Moor reserve near Nethy Bridge in the Cairngorms – the range of heathland plants could be compared with those growing in the nearby juniper scrub, a very special habitat.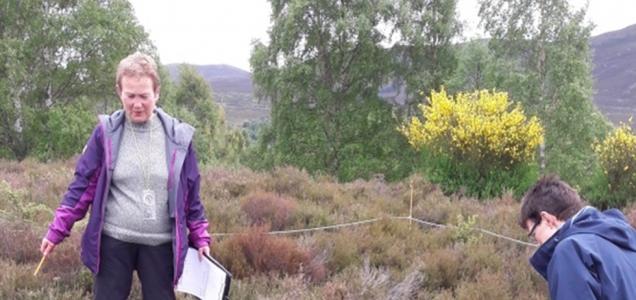 Our latest recruit Bob at Kindrogan, a very patient and slightly damp dog!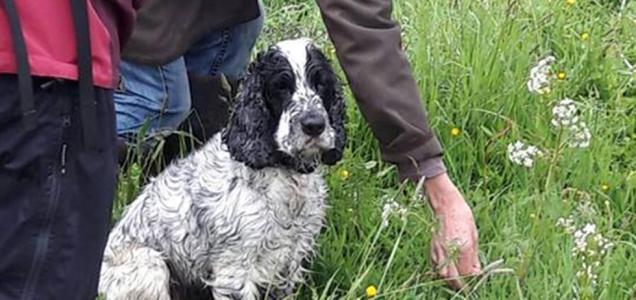 You can still sign up for the survey even if you didn't manage to get along to one of the training days this year – training courses are not essential, and we provide comprehensive information in the survey packs and also on the survey website; in addition support is available by email/phone for any specific queries.
There is still plenty of time to get involved this summer – you can get out for one survey visit in later summer this year, then do an early summer survey visit as well in following years. Or just get out this year and have a look at your survey area, so that you are ready to get started next year.
Many thanks to all our partner organisations who have supported the NPMS workshops in Scotland this year, financially and in other ways: Cairngorms National Park Authority; Field Studies Council's Tomorrow's Biodiversity project; Buccleuch Estates; RSPB; and the Hill and Mountain Research Centre, Kirkton.
The National Plant Monitoring Scheme is organised and funded by the Botanical Society of Britain and Ireland, the Centre for Ecology and Hydrology, the Joint Nature Conservation Commitee, and Plantlife.