Submitted by

olipescott

on Thu, 23/04/2015 - 12:18
Training
Yes, the swallows are back, the meadows are being painted with lady-smock, and the first ever round of NPMS training is taking place! If you haven't already noticed, the National Plant Monitoring Scheme is offering a full schedule of training opportunities this year. Visit the training page to sign-up if you are an NPMS surveyor!
Charlie Bell, project officer for the Field Studies Council's Tomorrow's Biodiversity project, attended a training session last week, and has posted her account over on the 'TomBio' blog. Thanks Charlie!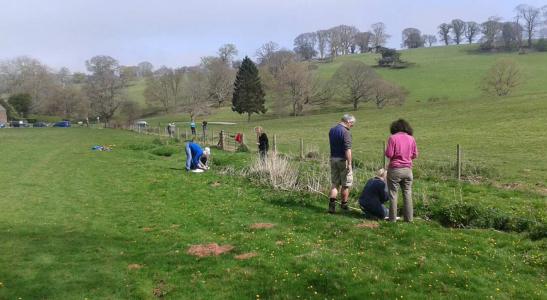 In case you are not familiar with the NPMS method, volunteers are randomly allocated a reasonably local 1km square to visit. Within this 1km square they are asked to select five plots in various habitats, either square plots 5m x 5m (10m x 10m in woodlands), or linear plots (1m x 25m), which follow features such as verges or streams. Particular plant species indicative of certain habitats have been selected; volunteers look for and record these indicator species within the plots. See the Resources page for more information.
The methodology itself will obviously be new to people, so the NPMS partnership are running a series of training courses focusing on the survey method, rather than the botanical identification (although this will no doubt come up incidentally!). This allows new recruits to troubleshoot any problems they are having in deciding where to site their plots, and also lets them to have a go at setting up and carrying out an example survey plot. However, a number of workshops on difficult plant groups are also being run - so watch out for these. Hope to see you on an NPMS training course soon!
Did you see us in British Wildlife?
This spring the NPMS was also fortunate to be able to contribute an introduction to the scheme to the natural history magazine British Wildlife. This article sets out the rationale behind the NPMS and its design, and overviews the methods. By kind permission of Bloomsbury Publishing, we have been able to reproduce the article on the NPMS website: see here for a read!