This is to announce that we have updated the Privacy Notice for the National Plant Monitoring Scheme. 
The changes relate to: 
1. Volunteer questionnaires
We would like to understand more about those taking part in the NPMS survey for the purpose of monitoring and developing our EDI (equality, inclusivity and diversity) strategy, so that we can work towards making the scheme as accessible as possible for everyone. You can now opt in to being offered very occasional, optional and completely anonymous volunteer questionnaires.
New users can do this as part of the sign-up process.

For existing volunteers, you can navigate to your account details page (via Menu -> My Account -> Edit) and select the box at the top of the page – don't forget to scroll to the bottom and save!
2. Consent to use photos and other media
We have updated our process around how we ask for your consent to use images and other media - for example a photo of volunteers on a training day - for publications and other NPMS-related material.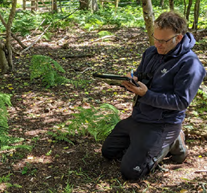 Follow this link to read the new Notice: https://www.npms.org.uk/privacy-policy
See also our Data Access Policy for more information: https://www.npms.org.uk/content/data-access-policy-0