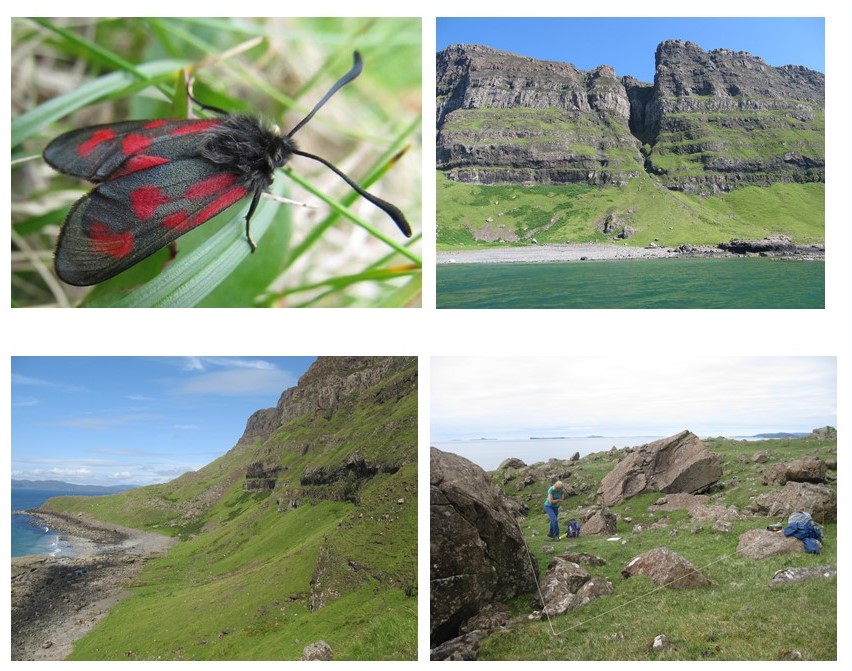 (Photo of the Slender Scotch Burnet Moth and vews of the square and plot locations)
My name is Emily Wilkins and I work as a countryside ranger for the islands of Iona, Staffa and the southern part of Mull off the west coast of Scotland. It's a partnership role between the National Trust for Scotland (NTS) and the local Mull & Iona Community Trust (MICT).
"I'm enjoying having a reason to visit this remoter part of my patch"
A few years ago I was delighted to notice that an NPMS square was available on the NTS Burg estate, part of my ranger patch. Burg is an area of spectacular coastal landscape at the end of Mull's Ardmeanach peninsula. The area is protected for its unique geology and wildlife including the imprint of a 60 million year old fossil tree in the cliffs and nesting golden eagles. You have to pay close attention to notice the real stars of the show however! Burg is home to the lovely day-flying slender scotch burnet moth, on the wing for a few weeks in June each year and found only here and a few neighbouring sites – and the equally rare Iceland purslane, a tiny plant growing in our summit gravel terraces and found only here and a few places on the island of Skye. That's the entire UK distribution for both of these species!
Although I can look across the loch to Burg from my living room window, getting there is not so easy. Visitors must walk for an hour and a half from the carpark before they reach the boundary and even then they are only halfway to the fossil tree. Although I can drive a bit closer down a rough track, monitoring the NPMS square still involves a full day hill walk. Sometimes I split the visit over two days as half of the square is above the cliffs and half below and it's a long walk around to find a safe route up or down! I'm enjoying having a reason to visit this remoter part of my patch…not for nothing is it known as The Wilderness!
I was lucky to have some expert help in setting up my plots from Helen Doherty, Grassland Specialist for Scottish Natural Heritage who was visiting to undertake her Site Condition Monitoring checks on some of the protected habitats. Being close to the sea makes conditions more extreme so I have ended up with a 'montane calcareous grassland' and a 'dry montane heathland' plot, even though they aren't at a high altitude, along with a 'flush' and a 'wet heath' plot. With such an impressive location I'm never short of volunteers looking for an interesting day out so I have plenty of help to complete the surveys each year too. On one memorable visit we had just crested the hill on the way to the upper plots and were faced with a whole family of golden eagles cruising at eye level above the clifftops in front of us!
Taking part in NPMS has definitely helped to improve my plant identification skills, especially on grasses and sedges. It's been an enjoyable experience that's taken me to a really interesting place. As I write this we are still in a coronavirus lockdown situation and for now I have switched to citizen science projects I can undertake in my back garden, but I'm looking forward to the day when I can visit my square again.