At the start of Autumn 2023, the Department of Agriculture, Environment and Rural Affairs (DAERA) appointed a new Scientific Officer who will oversee the National Plant Monitoring Scheme (NPMS) in Northern Ireland; Emma Mulholland. 
Read our conversation and welcome Emma to the scheme!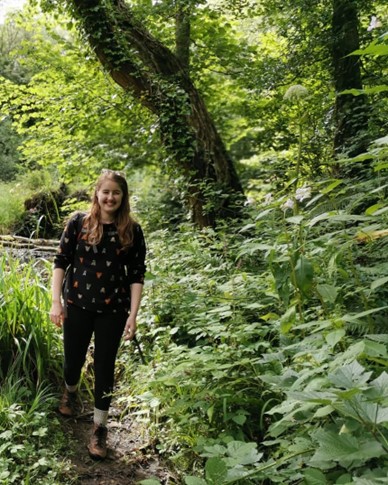 Emma out in the wilderness, plant hunting. Photo credit: Clare McKinney
Can you tell us about yourself – what were you doing before you came to DAERA?
 Before joining DAERA I worked as a Seasonal Assistant Ecologist in the East Midlands, carrying out Bat, Bird, Great Crested Newt and Hedgerow surveys. Prior to this I was with DAERA on a temporary basis working with Priority Species and Pollinators. I have carried out a few different roles involving GIS (Geographic Information systems) and Data Management for various companies, so have quite a bit of mapping experience. I was a Nature skills Trainee with the Living Seas team at Ulster Wildlife and have a soft spot for coastal habitats and dune systems. Whilst working in these different roles I was also studying part time with the Open University and graduated with a BSc (Hons) in Natural Sciences, which involved a large focus on pollinator plant interactions.
  I regularly carry out surveys and bird ringing for the BTO (British Trust for Ornithology) in my spare time and enjoy spending the weekends outdoors, birding and plant hunting with my friends. I grew up in the Antrim Hills and spent a lot of my childhood outside, exploring the local fields and clambering among the heather on Slemish Mountain. Nature has always been a big part of my life and it's very important to me. I'm very fortunate in that both my parents are horticulturalists, so my family walks as a child involved listening to lengthy taxonomic debates and a lot of pouring over ID books along country lanes. This year I'm planning on making my own moth trap to record the moths in the garden. I also intend to spend a few nights recording bat species to keep up my bat ID. Essentially this year is looking more and more like a 365-day bioblitz and I'm very happy about that!
What does your new role in DAERA entail and how will you be involved with the NPMS?
 My new role with DAERA is within the Conservation Science branch of the department and is specifically focused on the Data and Evidence side of things. Much of my role involves creating, managing, and processing data, including spatial data (mapping/GIS) for habitats in Northern Ireland. In addition to this I will be supporting the NPMS volunteers in Northern Ireland and within DAERA this year. I will be assisting with survey equipment for the survey season so hope to be out in the field later this year and will also be out surveying my own NPMS square. I also occasionally will be carrying out species and habitat surveys as and when required to help other teams in my branch.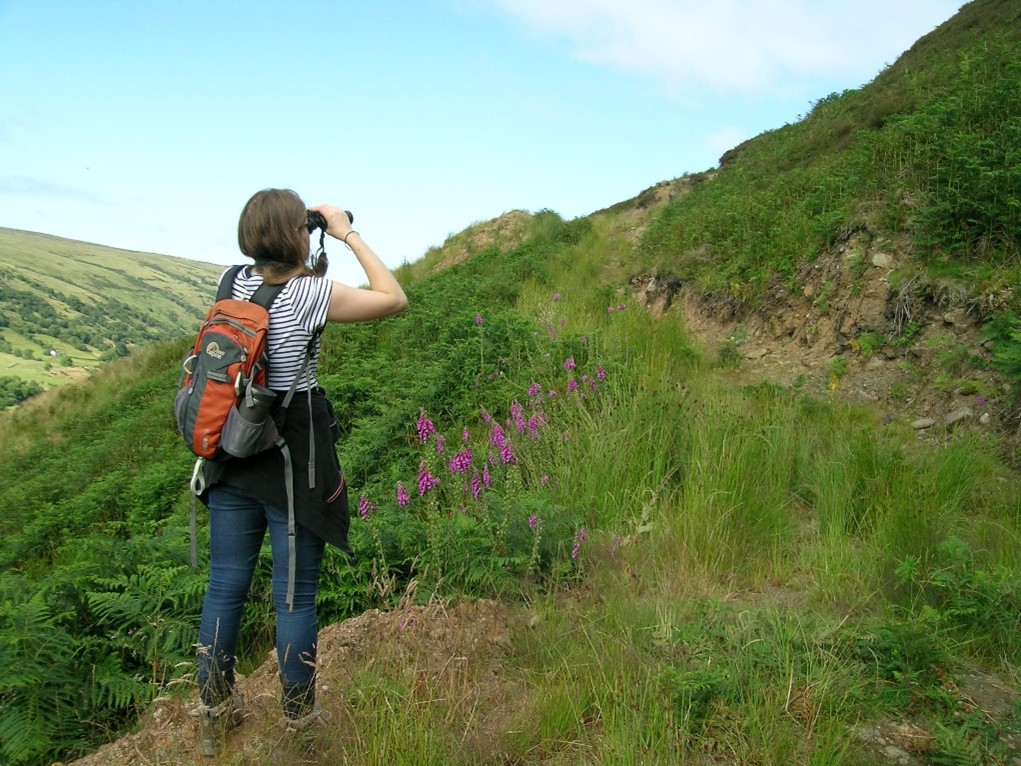 Emma exploring Ronan's way in the Glens of Antrim. Photo credit: Jo Mulholland
How do you foresee yourself supporting the NPMS volunteers in Northern Ireland?
 I will be available to provide support and advice for the NPMS volunteers in Northern Ireland where possible and will be just an email or phone call away. I want to be able to help assist volunteers with the selection of new squares, helping set up squares for the first time or resolving issues with data input. Even if it's just a friendly face to ask questions to I'm happy to be of assistance and will take on any good problem-solving challenge with enthusiasm.
Are there any parts of N.I. where you'd really like to see more people getting involved?
 There are loads of squares available all across Northern Ireland, so I'd really like to see more people from every County getting involved. County Antrim and County Fermanagh in particular both have a large number of available squares. It would be really nice to have a spread of squares across both coastal and inland habitats, as well as increased coverage across upland and lowland habitats. I'd also add that regardless of where the squares are located, having more new volunteers is very important and it's good to increase the network of biological recorders in Northern Ireland as a whole, as every little helps.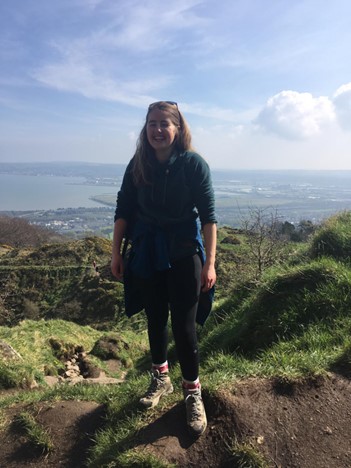 Emma on an adventure up Cave hill, probably looking for Kestrels and other exciting species. Photo Credit: Sarah Jane McQuillan
What are the plans for the NPMS in Northern Ireland for the next field season? What do you hope to achieve from those? What is the ultimate aim for N.I., from your perspective?
 For the upcoming field season, we want to see more volunteers getting interested in taking up a square and potentially current volunteers taking up an additional square.
With increased coverage of squares across a broad range of habitats and a larger volunteer base, we will be able to maximise the amount and accuracy of data collected. The ultimate goal for the NPMS in NI is to build upon the growing dataset of botanical and habitat data which can provide evidence for species trends and distribution to help more effectively inform decisions on protecting species and sites. 
Thank you for the opportunity to introduce myself and for your continued survey efforts and support of the Scheme. I look forward to working with you all this year and fingers crossed we get some excellent weather for the upcoming field season.